How to Properly Stock Your Bar Cart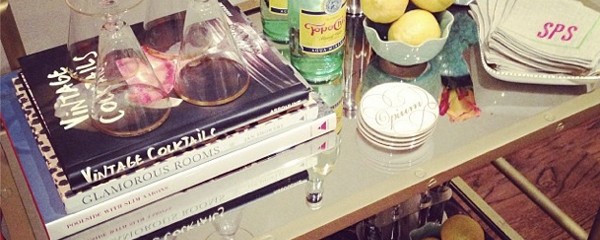 The bar cart is practically a fixture of fine apartment living. You could live without one, but why would you want to? Since Prohibition forced the culture into hiding in the 1920s, a well-stocked bar cart has meant serious hospitality. From the top shelf – with its array of tools, staple liquors and garnishes – to the bottom shelf – with its collection of mixers, glassware, and sundries – a well-appointed bar cart is a symbol of good living.
Equipment for the Bar Cart
Regardless of your status as a purist who only sips liquor neat or on the rocks, eventually, hospitality will dictate the need for a set of tools specifically designed for crafting fine cocktails. The bare essentials include an ice bucket with a lid, tongs or an ice scooper, a small cutting board and paring knife, a jigger for measuring liquor and mixers, a handheld or table top citrus juicer, a cocktail shaker, a strainer, a muddling mallet, a long-handled stirring spoon, a bottle opener and a wine key.
You'll Need These Liquors for Your Bar Cart
No respectable bar cart is equipped without decent representatives of at least the six basic liquors that comprise most cocktails: vodka, gin, rum, tequila, scotch whisky and bourbon. If your budget is limited, a step up from the bottom shelf at the liquor store is all you need to stock you bar cart.
Conversely, there's really no need to spend top dollar for liquors that will get most of their use in mixed drinks that do little to highlight their intricate flavors. If you have extra money to spend and more room on the top shelf of your bar cart, then spend it expanding your offerings. Consider adding a rye whiskey, a good quality dark rum, a mescal, or a decanter with an aged scotch or bourbon to the mix.
Home Bar Cart Mixers and Garnishes
When we talk about the mixers to stock in a respectable bar cart, we're talking about the liqueurs, juices, bitters and other components that go into making cocktails from scratch. Essential mixers include an orange liqueur for making margaritas and other cocktails, a coffee liquor, sweet vermouth for manhattans, dry vermouth for martinis, olives, good quality garnishing cherries, bottled cola and ginger ale.
Additionally, cranberry and pineapple juices, lemons, limes, grapefruits and oranges, good quality bitters, sugar cubes, fresh mint and celery, pickled peppers, are other garnishes you may need for your favorite cocktails.
Glassware, Snacks and Sundries
No bar cart is complete without a varied selection of appropriate glassware. The essentials include shot glasses, old-fashioned glasses, highball glasses, tumblers or rocks glasses, beer or pint glasses, champagne flutes, and wine glasses. If you have the extra room in your budget, you can add decanters for wine and liquor and whatever glassware seems to fit your favorite exotic cocktails, like margarita and martini glasses.
September 3rd, 2015
Posted in: DIY