Should I try a CSA? 4 things you need to know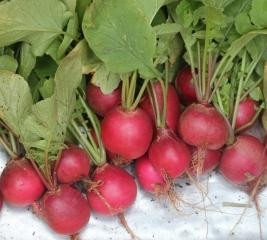 When you live in the city, searching for fresh produce can be a sadventure. Even if you have cash to blow at Whole Foods or Trader Joe's, you're not always guaranteed the cream of the crop when fruits and veggies have to travel all the way from the suburbs (or beyond). That's why subscribing to a CSA, a community-supported agriculture endeavor, makes so much sense.
Depending on the setup of your local CSA, you'll usually get a box of fresh produce once a week or maybe once every two weeks, depending on how much you paid at the beginning of the growing season. There are tons of perks to participating in a CSA—beyond the killer weekly Instas of your CSA box—but you should think about it before you commit, especially since CSAs can be pricey. Here are four things you should know before you take the plunge:
A CSA is like a box of chocolates. One of the chief characteristics of a CSA box, the thing that really makes it different from shopping at the farmers market, is that the farmer in charge decides what you get each week. This can depend on a variety of factors, but often it's just as simple as what's ready to be harvested at the time the boxes go out, and how much of each crop is available to disperse among the boxes. This means you might end up with veggies you've never heard of before, or maybe 10 apples and only two potatoes. You need to be able to roll with the punches when you sign up for a CSA.
You'll need to be on your Pinterest game. Here's the silver lining: you won't be all alone in trying to figure out how to use Swiss chard. That's what Pinterest is for. If you're a seasoned DIYer, then you already know how to find slow-cooker recipes for just about anything on Pinterest. And if nothing catches your eye there, you can always put out a plea on Twitter or Facebook and rely on the kindness of foodie friends for help.
If you know how to can, you're already ahead. Since you'll probably end up with more produce than you can eat in a week, freezing and canning food will probably become part of your weekly food prep routine. If you don't already know how to can, it's time to pick up the supplies at Target and watch a YouTube video or two. Freezing is pretty self-explanatory; just wash, dry thoroughly, and freeze. Keep in mind, however, that not every fruit and vegetable holds up well to chilly temps, so you should look it up before wasting any fresh food.
You'll have to plan ahead. If you're one of those people who just has a natural knack for throwing stuff together and creating a gourmet meal, then you probably won't have any issues with a CSA. But if you're a mere cooking mortal like the rest of us, you should plan a menu based on your pull for the week. Look up recipes that can make use of the grub you got, and remember that many veggies can simple be eaten raw with some hummus.
Eat Well, Spend Less: How to Use Your CSA Share [Life as Mom]
The Crisper Whisperer: 10 Secrets for Making the Most of Your CSA [Serious Eats]
How to Get the Most Out of Your CSA [The Kitchn]