Get Creative With Your Storage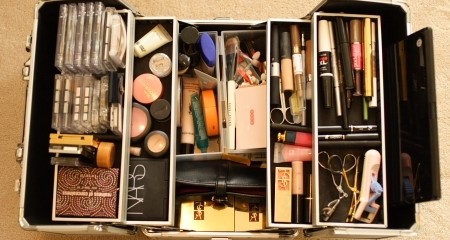 No matter how large your home is, your family or roommates probably don't have much trouble filling it up. Sometimes it seems like belongings multiply until they take up virtually all available space. That generally leads to issues with storage and organization. If you're ready to think outside the box, though, you'll never have to worry about running out of storage space again. A little creativity goes a long way in these DIY storage solutions.
Under the sink. Most people haphazardly stow miscellaneous cleaning products and mismatched sponges under the kitchen sink. If the sheer diversity of the items isn't enough to send your under-sink area spiraling into chaos, then the volume of them should be. If you've been struggling with keeping everything you need neat and tidy in the kitchen, try a few of these simple fixes pioneered by blogger Jen of A Thousand Words. She enlists plastic baskets and bins to hold wayward vacuum attachments and sponges. She also installs a simple dowel rod on which to hang cleaning solutions in spray bottles. Finally, she nails a wire basket for other miscellaneous items (shoe polish, in her case, but you can use it for whatever works).
In desk drawers. This quick and easy trick from Real Simple requires no installation. In fact, you don't even have to own a hammer. To collect and organize the random paper clips, wayward staples, and other tiny items that get strewn about your desk drawers, use an old ice cube tray. It'll fit easily in even a shallow drawer and keep all of those tiny doodads in order.
In the car. Again, you don't need to be handy to clean up your car—just creative. Heather of the blog Decor-ganize Crafts suggests repurposing a plastic shoe holder—the kind you typically hang over a closet door—as an organizer in your car. Choose a small one with maybe five or six large pockets, and use it to stow everything from the kids' video games to some spare change. Simply hang it over one of the front seats to grant passengers easy access to its contents.
Above the bureau. Are you prone to misplacing makeup? Not anymore. Allie Grace's makeup organizer stores all of your eyeshadows and bronzers in plain sight, so it'll be hard to lose one. She shows you how to repurpose a baking sheet as a magnet board for your various cosmetics by simply gluing on a cute fabric, framing it, and affixing strong magnets to the back of each of your compacts.
In the bathroom. If your linen closet is lacking space, make a statement with any excess towels. Affix pretty nested baskets to the walls vertically using just nails, like depicted here on lifestyle blog I'm Busy Procrastinating. Then roll up towels and stick the various sizes (full body towels, hand towels, and washcloths) in their corresponding baskets.
Image: http://commons.wikimedia.org/wiki/File:Makeup_case.jpg
Attribution: CC BY 2.0/ Flickr/Ookikioo