5 Retro Beach Looks for Women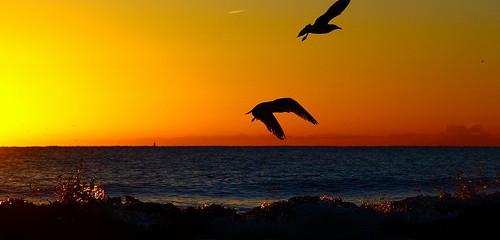 Taylor Swift might not be singlehandedly responsible for the rise of the retro bathing suit, but even she seems to realize she's had a hand in the trend (see:photographic evidence). Whether you're a fan of Swifty or not, you have to admit that you've been noticing some old-timey fashion by the pool and on the beach. The retro bathing suit is trending so hard right now for a few reasons, but the most important is probably that these vintage-inspired swimsuits look flattering on virtually everyone. If you've considered diving in (pun intended) to this trend, think about adding these pieces to your summer wardrobe:
High-waisted bottoms. ModCloth is virtually overflowing with high-waisted bikini bottoms, a surefire sign that the trend is taking off. High-waisted bottoms are the perfect compromise for someone who doesn't quite feel comfortable in a bikini, but isn't quite ready to graduate to a one-piece. They cover up belly buttons and cinch in curves, so women of all shapes and sizes can pull off this look.
Balconette bikini top. Similar to the all-flattering high bottoms, balconette bikini tops are structured enough to support busty women, but also add some oomph for ladies with smaller chests. Best of all? They're super cute. Pick one with a fun pattern if you have solid-hued bottoms to pair it with, or go for a solid on top and a pattern on the bottom to make your whole look feel flirty. Pair solid with solid if you're going for a more sophisticated look; you can never go wrong with black on black when it comes to poolside couture.
Halter one-pieces. If you're ready to rock a one-piece, you're in luck because the recent move towards modesty on the beach means that they're in high supply. Retailers like ModCloth boast a wide variety of polka-dotted suits with tie halter necks, but you'll find much of the same on the racks at the mall. Check out H&M and Target for budget-friendly one-pieces if you're not quite ready to commit to a pricier one just yet.
Ruffles and peplum. The return to retro also means the return to more feminine touches, including ruffles and peplum. For anyone who's uncomfortable in a swimsuit, this is another win. Ruffles pull double duty: they're adorbz and they hide imperfections. The same is true of a peplum-style suit, which effortlessly glides over love handles—it's like they're not even there.
Nautical prints. Nautical prints are very big in the retro bathing suit game, so get on board. ModCloth alone has a few different varieties of sea-themed prints, including a high-waisted navy bikini with small white anchors printed across the entire thing. There's another white, anchor-speckled bikini with strapless balconette top and bands of a soft mint green wrapped around its edges. Other bathing suits pay homage to the ocean with seashells and striking blue hues. Don't fight the potential cheesy factor of a kitschy bathing suit like this; just lean into it.