5 Retro Beach Looks for Guys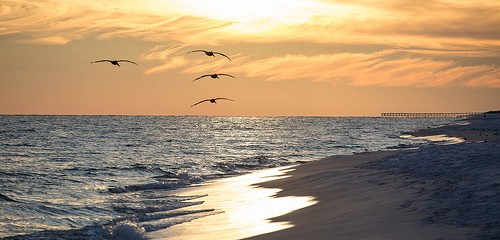 Bathing suit season is upon us, which means it's time to update your summer wardrobe. Of course, if you've been keeping an eye on what's trending online right now, you'll know that updating actually means throwing it back—way back. Retro swimsuits are on the racks of almost every major retailer at the moment, and not just for women. Current men's bathing suits are also increasingly being modeled after beachwear trends from the '50s, '60s, and '70s. You might not have even noticed that some of the poolside apparel out there looks like it belongs in a different era—which is why we've compiled this guide. It runs down the top retro looks out there for guys right now, so keep a special eye out for these components to add to your next beach day ensemble.
Short shorts. Okay, so the short shorts may not be for everyone, but if you can rock them, go for it. Some swim trunks and surfing shorts may fall at or below the knee today, but it wasn't always that way. Short shorts held on strong for a long time—you've probably even seen a semi-scarring photo of your dad wearing them at some point. It wasn't just the beach, either. Cutoffs, pro basketballer bottoms, track shorts—all teensy (some still are today). Embrace this trend, don't fight it.
Pinstripes. Whether you're confident enough to wear short shorts in public or you prefer to stick with a more modest pair of swim trunks, pinstripes are always a good look. They're most prevalent in dress pants today, but pinstripes used to run down the length of many pairs of swimming shorts. Make your swim ensemble a little bit more dapper by finding swim trunks bearing classic pinstripes.
Collared, short-sleeved shirts. An old-timey beach was all about modesty, so your swimsuit isn't complete without a shirt. If you're really dedicated to the retro look, wear a short-sleeved, collared button-down to the beach. Choose a light, beachy hue such as soft blue, white, or gray in a light, breathable fabric.
Classic tees. Even 60 years ago, dudes knew that they were fashionably safe wearing a solid t-shirt to the beach. Rock a navy tee like the handsome hero in Jaws, go for an understated white shirt a la Danny Zuko in the opening scenes of Grease (bonus points if you layer denim over top), or just do you and opt for that goofy print.
Aviators. No old-school beach look is complete without one crowning jewel: a pair of aviators. You don't have to splurge on a pair from an uber-expensive brand to achieve the aesthetic you want. A cheap pair from Target or H&M will do the trick. Your dad might even still have his old pair somewhere if you're willing to dig around in the attic a bit. Pair with pinstriped swim trunks and a bright and clean white t-shirt, aviators will make you look as though you've stepped straight out of a classic romance novel.