Creating an Anthropologie-Inspired Home on a Budget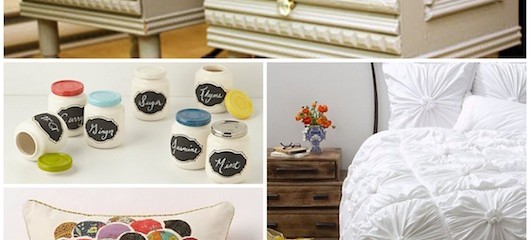 Upon walking into an Anthropologie store, you get the feeling you have arrived at your dream home. From the unique vintage furniture to the cutesy knickknacks, Anthropologie draws you in with its quirky charm. Unfortunately, we don't all have the shopping budget to be able to afford a $900 side table. On the bright side, there are easy ways to spruce up thrift store furniture finds!
Adding accents to your AVA U District home will also help add an Anthropologie feel to your home. Check out our tips to get the look for less!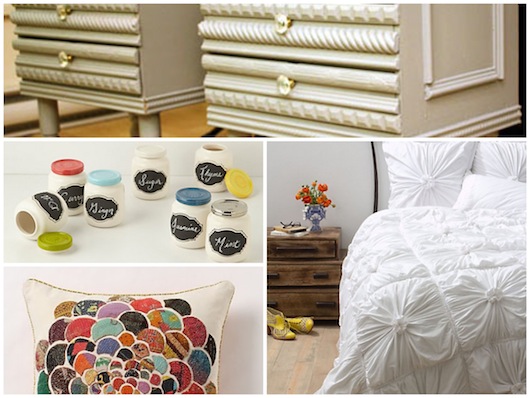 Images (clockwise): Design Sponge, Anthropologie, Anthropologie, Anthropologie
Curator Nightstand
This DIY project is a little bit more work but if you are really determined to own Anthro inspired furniture then this project will be worth it to you! The Curator Nightstand retails for over $600 while the DIY version is only $96. Check out the step-by-step tutorial at Design Sponge!
Bedding
Anthropologie's Rosette Bedding is a great way to add a romantic feel to your home and is available in 9 different colors but retails for over $200. Target's Threshold Pinched Pleat Bedding is a great look for less set that's under $100! The set is available in 7 colors and still has the romantic vibe and rumpled look.
The Orimono Pillow
Anthropologie's Orimono Pillow adds a unique accent to any couch or bed. While it retails for $88, you can create the look of the pillow for so much less! 6th Street Design School shows how easy it is to cut up some extra fabric scraps and sew them on the front of a square white pillow. Easy and simple, the DIY version of the pillow will be an instant, affordable style update to your home décor!
Chalkboard Labeled Jars
Love the adorable Anthropologie Chalkboard Spice Jars but hate the price? Cost Plus World Market sells their own inspired version for half the price, retailing at only $5! If you've got some free time then you could just make DIY spice jars using Sarah Hearts' guide but if you are pressed for time then the Cost Plus ones are a great option.