4 Outdoor Activities to de-stress in the spring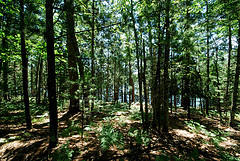 For some of us, the snow is thawing. For others it's just getting a little warmer. But wherever you live, Spring is a great time to rejoin the outside world and get back into more outdoor activities. Here are a few that can help you kick off the season.
Stop and smell the flowers. Most botanical gardens strive to have something for viewing throughout the year, but March is when they don't have to try very hard – everything from Alyssum to Wedelia is in bloom. New York's botanical garden has an orchid show going on right now. If you're in DC, try the US Botanic Garden or National Arboretum (they have the cherry blossoms, with fewer crowds). LA, San Diego, San Francisco, all have their own options too. In Boston, you may have to a little out of the city limits – but the day trip is worth it to get a moment to relax.
Visit a farmer's market. In some areas, farmer's markets closed down for the winter, or some just operated on reduced hours. But as Spring returns, you'll begin to see more open; and a greater variety of options to choose from. Kick off the warmer seasons with a leisurely stroll to pick up your groceries – and support local farms at the same time. If you're not sure where the nearest one is, Google searches are improving our ability to find them, to be certain, but sites like LocalHarvest also make it easy.
Go on a walk to nowhere. Find a park nearby. Walk the sidewalk of your neighborhood and find a store you've never been into. You might be surprised by how much pleasure you can derive from a leisurely walk with no particular destination.
Sit still. Find a bench in a park, or a gazebo if it's raining. Sit on a balcony or a porch, or a covered outdoor café, and sip a cup of tea. Enjoy the fresh air, breathe it in and relax in the moment. Don't think about anything. Don't do anything. Give yourself a moment.
February 23rd, 2016
Posted in: Avalon