How to Create a Happy Office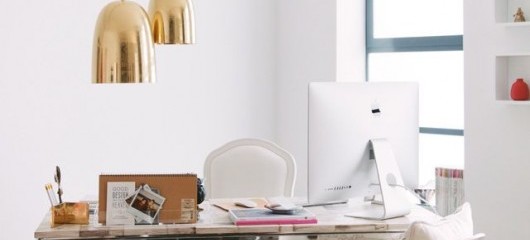 Whether you work from your AVA 55 Ninth home or commute daily, it is estimated that we spend more time at our desks than we do sleeping every night. We decorate our homes, spend time curating our closets – why not place a little importance on our workspace? Your desk at home and/or your desk at work deserve the same amount of attention and care as every aspect of your life.
Here are a few ideas on how to make a happy, serene, and productive space at the office.

Image: TwentySomething Test Dummies
Cubicles and office spaces away from home aren't always the prettiest. By adding a few simple things, you can take your drab desk to something inspiring and beautiful. Begin by clearing all unnecessary clutter and then bringing in a bit of life. A bright colored lamp, a vibrant plant and some pictures from home can bring a feeling of comfort. Quirky and unexpected objects, like that grass charging station for your phone or mp3 players, are great ways of bringing in a bit of fun and joy to your workspace.
If you work from home (lucky!), it's perhaps even more essential to create a workspace dedicated to maximum productivity. Luckily, it also means that you can fully customize your space! Here are some more ideas on how to create a fantastic home office.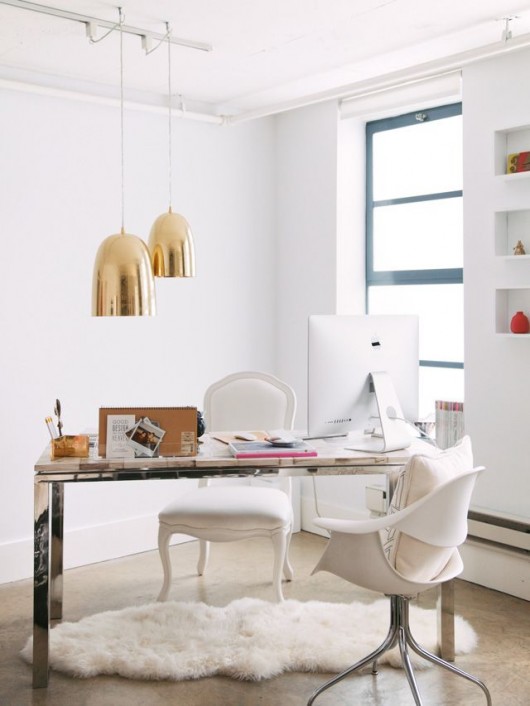 Image: Peanut Buttered
Begin by dedicated a space or a room solely for your own use – a space where you can work with no interruptions (or as few as possible).  When choosing colors and décor, choose whatever makes you feel happy and relaxed, yet powerful. When it comes to picking out furniture, don't think that office furniture is required. In fact, opt out for unconventional items such as a Queen Anne chair or a sleek Parsons table that can double as a chic desk. Also, adorn your desk with extravagant versions of your everyday items such as staplers, tape dispensers, etc.
Here's a collection of items to personalize your workspace and get started!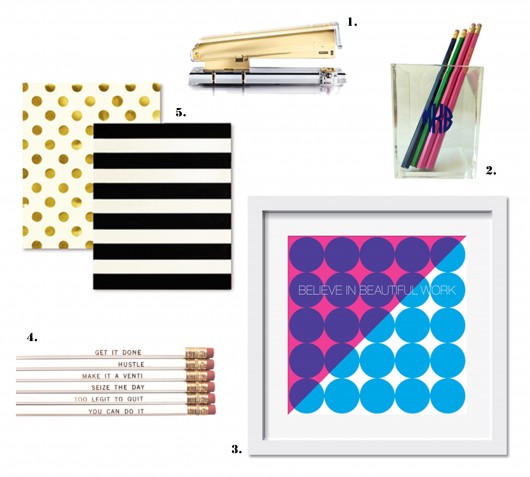 1. Gold acrylic stapler (Design Darling)   2. Monogrammed acrylic pencil cup (Design Darling)   3. Framed Art (Poppin)   4. Motivational pencil set (Design Darling)   5. Kate Spade spiral notebook (See Jane Work)
Where are some of your favorite shops to pick up interesting desk accessories? Let us know in the comments!