Summer Entertaining Essentials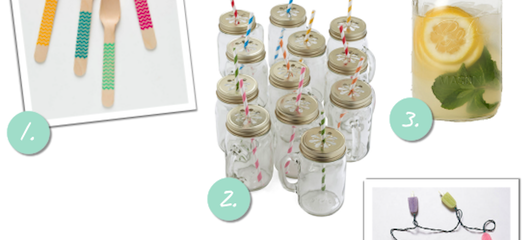 With the first day of summer right around the corner it's time to start preparing for hosting barbeques, pool parties, and casual backyard get-togethers. Keep these items on hand for when you decide to have an impromptu party to ensure a fuss-free event. Just add a pool, barbeque, lounge chairs and some good friends to this list, and you're set for a fantastic summer!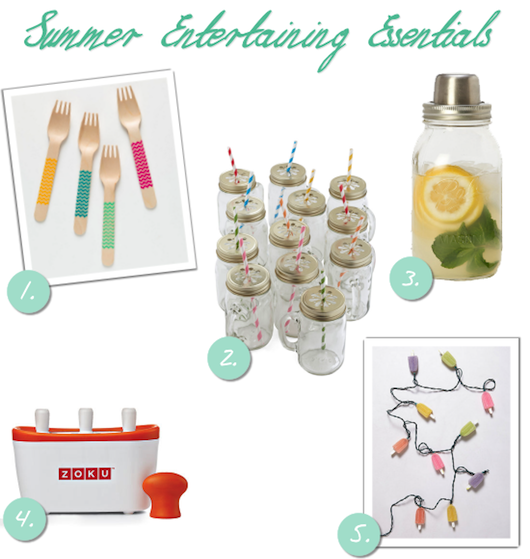 1. Don't just give guests boring plastic utensils to use, instead set the table with Sucre Shop's Chevron Wooden Utensils. They're not only eco-friendly but also a charming way to add flair to your tableware.
2. Serve up margaritas and cocktails in the Perfect, Juice Perfect Glass Set from ModCloth. With daisy perforated lids, these jars will add a fun touch to all your concoctions.
3. Shake your cocktails in style with this Mason Jar Cocktail Shaker from Terrain. Just add your beverage, alcohol and ice and use as you would any other cocktail shaker! Looking for a summer drink recipe? Try Cookie and Kate's Blueberry Lavender Vodka Lemonade recipe!
4. The Zoku Quick Pop Maker is a fun way to cool down this summer. Making customized popsicles is easy and exciting for guests of all ages. Check out Zoku's Mint Margarita Pop recipe for a perfect summer treat to serve at your next barbeque.
5. Summer's warm temperatures and late sunsets give you the perfect opportunity to host an outdoor cocktail party. Tack these Anthropologie Popsicle Lights around your backyard or patio to illuminate your party in a festive way! Guests will adore the unique charm of the lights and it'll give your party a joyous ambiance.