How you can go green and do good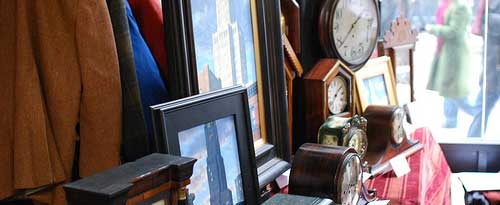 When your wardrobe is woefully outdated or you find yourself with a set of guest towels that have seen better days, it's easy just to chuck unwanted stuff in the trash. But when you do that, you're dooming it to a landfill. Not only does that waste  precious space (and cause pollution in the process), it deprives your clothing or linens a chance at second life in someone else's home. That's why donating gently used, unwanted items to a thrift store is just good form, for you, your fellow humans, and the earth. As Earth Day approaches, why not resolve to do your part by giving your unwanted stuff a new lease on life? Here are three places you can drop off your secondhand items and know with certainty they'll be put to good use:
ReStore. You've probably already heard of Habitat for Humanity and know at least a little something about the good the organization does. When Habitat for Humanity's teams aren't building homes for those in need, they're brainstorming other ways to give back. One of the most successful has been Habitat for Humanity ReStores, a chain of thrift stores that contributes to Habitat's aim to make the world a better place. These non-profit thrift stores accept new and gently used goods that recipients of Habitat for Humanity homes (or anyone, of that matter) could actually use to spruce up the place. The inventory includes furniture, home accessories, appliances, and even construction materials. The low prices make ReStores' products accessible to everyone, and keeps them from falling into landfills.
Goodwill. Another massive chain of thrift stores with an altruistic slant? Goodwill. With more than 3,000 stores scattered across the country, Goodwill has a huge network of retail outlets stocking everything from jeans to blenders. And when you donate to Goodwill (or shop here), you're doing more than just helping out the environment, you're also helping your fellow humans. The profits from Goodwill go right back out into the community, funding programs that help people looking for jobs get the training and certifications they need. Goodwill helps youths, senior citizens, and veterans find employment and earn any qualifications they need, not to mention people with disabilities and criminal backgrounds. In 2015 alone, Goodwill gave more than 26 million people the boost they needed to land jobs, so the organization really earned its title.
The Salvation Army. When you donate to The Salvation Army, you're also helping out the environment and the human race as a whole. The Salvation Army's more than 7,500 donation centers and stores were created for "doing the most good." That means bringing food and supplies where they're needed after major disasters, founding rehabilitation centers, working to combat human trafficking, and heading up programs for kids. Items sold at The Salvation Army directly contribute to this effort, so you can feel good about unloading your car here on a few different levels. You'll be helping out people in need, and also keeping your planet healthy by not just trashing a pair of shoes you only wore a few times. Consider doing some shopping here, too, to give the secondhand trend an even bigger boost.