Pickling Fall Vegetables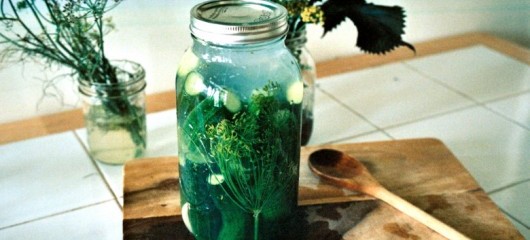 We all know that Portlandia episode, "we can pickle that". While pickling may be in vogue right now, it is a great way to preserve your end of summer vegetable crop or a fun way to spend a few hours with friends or family. Even if you don't have your own garden, you can get some fresh organic produce from your local farmers market to try your hand at pickling right at your AVA U District home!
There are infinite ways to pickle food, but here are three recipes to try out in your kitchen.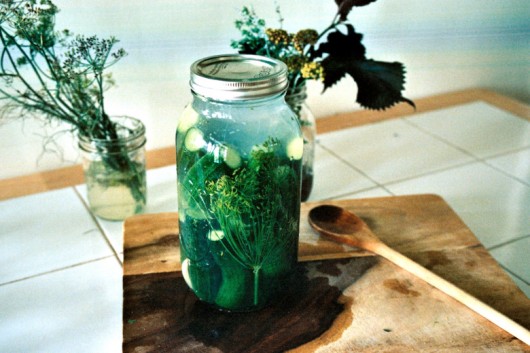 Image: Witchin' In The Kitchen
This first recipe is a twist on the classic pickled cucumber, a.k.a. the Pickle! It comes from the blogging genius behind Witchin in the Kitchen, and this recipe makes use of lacto fermentation, which has many benefits for your stomach. Fermenting vegetables is a great way to get your dose of good bacteria to keep your stomach and body healthy (this is similar to the bacteria in kombucha that makes it a healthy tonic to drink).
Ingredients
2 lbs. small Kirby cucumbers (or other pickling cucumbers)
2 flowering dill heads
4 cloves garlic
1/2 tsp black peppercorns
brine (1 tbsp salt to 1 cup of water)
fresh grape leaves (optional, just a few)
This is an easy recipe to start with because of its simplicity, plus it doesn't require any cooking before bottling. It also doesn't require much chopping or preparation, making it perfect for smaller kitchens. Fill a quart size mason jar with your brine and cut your cucumbers in half. Put all your ingredients in the jar and make sure that everything stays submerged in the liquid. Since this is fermented, it may spill out of the jar as the days go by, like kombucha has a tendency to do when you open it. Keep the jar in a bowl to catch any spillage and keep the lid slightly loose so the liquid has somewhere to go. Store on your countertop or cabinet for up to 3 weeks and then store in the refrigerator for up to 6 months.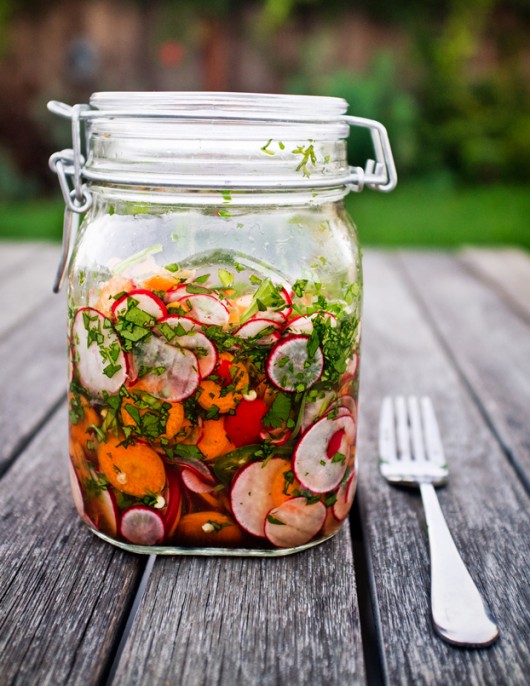 Image: Eva Kolenko Photography
Who doesn't love pickled carrots? This recipe is a bit of a spin on the classic pickled carrot snack found at many authentic Mexican restaurants. You can use this on your next taco night or just eat it straight out of the jar as a snack. The recipe comes to us from the beautiful blog Eva Kolenko.
Ingredients
2 bunches radishes
1 handful carrots
2-4 medium jalapeños (more or less depending on your love of heat!)
1 handful cilantro, chopped
1/2 cup distilled white vinegar
1/4 cup apple cider vinegar
1/4 cup red wine vinegar
1/2 cup sugar
salt to taste
This recipe is just as simple as the first one and only requires you dissolve the sugar and vinegar over heat. First slice up the radishes, carrots, and jalapenos into thin discs. Roughly chop up your cilantro and set aside. Heat your three vinegars and sugar in a saucepan and bring to a boil. After the sugar is dissolved, you'll need to let it cool to room temperature. Once it is cool, pour it over your veggies in a large glass mason jar. Add salt to your taste and store in the fridge.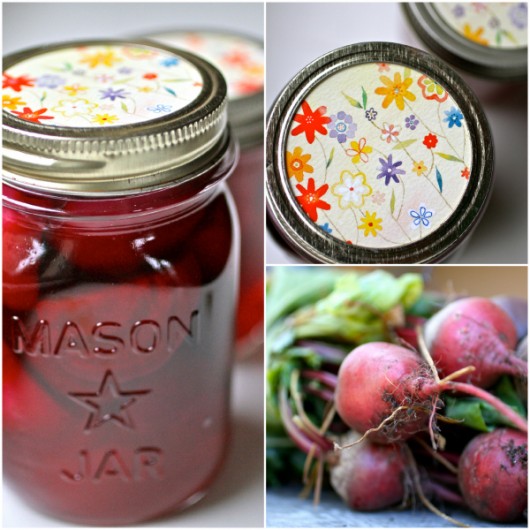 Image: Talk of Tomatoes
Beets are a classic fall vegetable. Whether you like them raw or cooked, eating them pickled is twice as delicious. This recipe comes to us courtesy of Talk of Tomatoes.
Ingredients
15 – 18 small/medium red beets
2 cups white sugar
2 cups vinegar
2 cups water
For the Spice Bag
1 piece cinnamon bark
1 tsp whole cloves
1 tsp allspice
Scrub the beets to remove any dirt. Cut off the tail and greens, but leave about an inch of the stem. Steam the beets for about 15 minutes or until they are fork tender. Peel the skin off (wear kitchen gloves if you need to) and cut them into quarters. Meanwhile, bring the vinegar, water, and spices to a boil. Reduce to a simmer and add the beets. Simmer them for about 15 more minutes. Boil your glass mason jars or other containers to sanitize them. Give them a hot water bath and store in your fridge!
Hopefully you will give these pickling recipes a try to discover how easy it can be to pickle anything!