SoMa Services Geared Toward Cyclists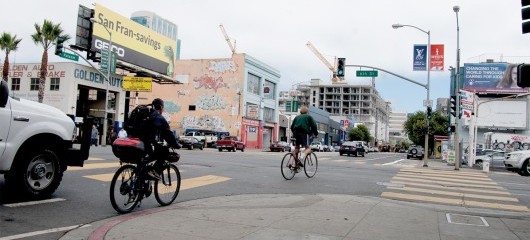 With nice flat streets and limited parking, it's no surprise that biking is the preferred method of transportation for so many residents and commuters around SoMa. It's a bike-friendly area with lots of resources for riders and, with increased attention on safety and the newly announced plans to widen the bike lane on Folsom Street, biking is becoming an even more attractive alternative to driving. Maybe that's why there seems to be more shops, groups, business and services for cyclists than ever before.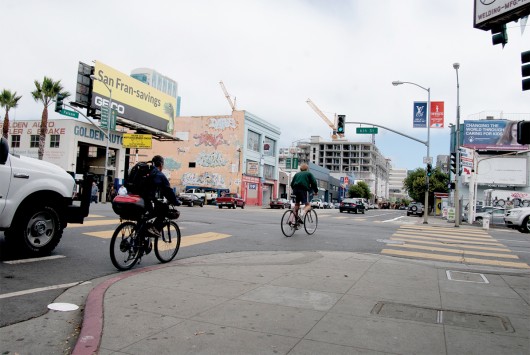 Image: San Francisco Examiner
You may have noticed, whether a cycling pro or just starting out, SoMa offers plenty of options for places to buy gear. You can go for the predictability and varied selection of a chain store like Mike's Bikes and Performance Bicycle, or a smaller, locally owned shop like Huckleberry Bicycles, Pacific Bikes and Public Bikes, whose selection rivals the bigger stores. From base model mountain to completely custom-made road bikes, there's something for everyone.
One of the newer cycling trends around town is the electric bike – "e-bike" to those in the know. Cruising around the streets of SoMa is fairly easy, but that extra boost of power comes in handy when visiting the hills of nearby neighborhoods. Plus, they're fun and look cool (right?), which is probably why they're popping up at shops all over town these days.
Another popular trend? Keep an eye out for bikes with "SoMa" written on the frame. That's not just hometown pride they're sporting, but the expertly made frames of SoMa Fabrications. They sell their frames at shops around the country and in a few stores locally. You'll see their work around town but you can check them out online as well.
Looking for a ride that will get you out of town for the day? Gears & Grapes offers a variety of cycling tours to Napa and Sonoma wine countries. Complete with a sommelier guide and a cyclist support van, the tours take riders to several wineries for tastings and a picnic lunch. Tours pick up and drop off from their SoMa headquarters on Lusk Street near AT&T Park.
For those without wheels, the Bay Area Bike Share program is an awesome way to rent a bike for quick errands, to get to work or just for fun. Bike stations are located all around the city (including 10th and Market St. around the corner from AVA 55 Ninth) and memberships are available for 24 hours, 3 days or one year. Just grab a bike when you need it, go where you need to go, and return to any station when you're done. It's like zipcar for those who like to exercise!
Ahhhh, wind in your hair, a little sweat down your back and no need to fill up on gas – what a great way to get around town.