Seasonal Decor that won't break the bank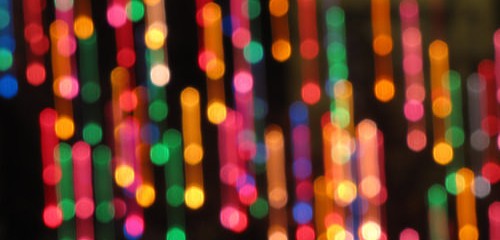 If your holiday budget is already stretched the max with Christmas, Hanukkah, and other gifts for friends and family, then the last thing you want to worry about is how you're going to afford holiday decor. Chances are you've already amassed some staples over the years, as gifts or hand-me-downs, but these pieces aren't enough to embellish the entire apartment. And they may not be particularly trendy, either. Spruce up the place with some of these cheap, easy holiday decorations.
Cluster votives, then get creative. You probably already have votives and tealights. Good, because they're the focal point for this dining room table centerpiece or coffee table vignette. Start by clustering a few votives in the center of the space, then surround them with any holiday-themed elements you have on-hand, such as chestnuts, pinstriped peppermints, or even Christmas ornaments.
Crowd a clear vase with feathers (or leaves or pine cones). For a Thanksgiving decoration that carries over into the rest of the holiday season, find a large clear glass vase. If you don't already own one, head to the thrift store. Chances are you'll find a ton of cheap options there. Then make a pit stop at the craft store, where you'll find faux feathers, pine cones, and autumn leaves. They'll all look cute and festive in the clear glass vase, and you can intertwine them with any elements you already have at home (like Christmas candy or cranberries) to transition the decoration from Thanksgiving to Christmas.
Use holiday cards as decor. Some of your holiday decor actually shows up in the mail every year: greeting cards. If you don't already have a cute bulletin board where you tack up cards from friends and family, invest in a cheap piece of corkboard at the craft store or simply string up a festive ribbon and use clothespins to hang the cards. You could even make a scrapbook of them, or simply create a collage and hang it on the wall.
Get crafty with paper snowflakes. Do your kids love arts and crafts? Then you shouldn't have any trouble getting them in on this fun activity. Find templates for holiday snowflakes online (or encourage youngsters to make up their own), and then break out the scissors. Once you have at least a flurry's worth of snowflakes, string them up with white, red, and green ribbon.
DIY an advent calendar. You don't have to buy an advent calendar at the store anymore. The internet has made sure of that. Just do a quick Pinterest search for a DIY calendar, and you'll be inundated with a slew of options. Some of them are even a little saucy—think calendars with small shots of booze behind each door instead of a piece of candy. And then there's the added bonus of being able to make the advent calendar yourself (perhaps with the help of your kids or nieces and nephews), which means you can tailor it to the rest of your apartment's holiday decor.