How to Make DIY Rugs For Your AVA Apartment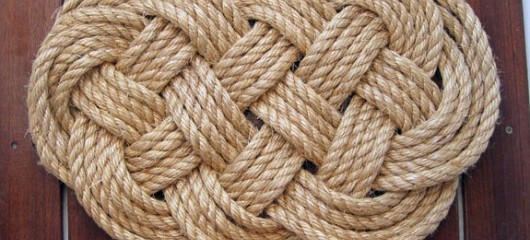 Rugs can be ridiculously expensive – you can easily spend upwards of several hundred dollars on just one. Why do we keep spending so much on floor coverings, especially in an already expensive city?
Well, rugs can give your apartment a totally different vibe (especially if you can't paint the walls or don't wish to hang a lot of artwork), but making them can be a more affordable way to add that special touch to your AVA 55 Ninth home. Customize it to your own taste with different fabrics, and colors. In this post, you will find out how to make three different styles of rugs. You can even buy fabric and paint to make it look like a much more expensive rug that no one else will have. It will reflect your style and taste without breaking the bank!
Image: Sailing Chance
If you find yourself spending your weekends sailing in San Francisco Bay, this may be the perfect DIY project for you! Pictured above is a classical nautical style rope rug. This was originally a pattern used by Martha Stewart, which Sailing Chance updated with a more rustic, natural rope. This rug is very simple to make and doesn't require any special skills (it doesn't hurt if you know a variety of knots though!) All you need for this pattern is about 165 feet of ½ inch rope. You can use whatever kind you like, depending on where you plan on placing this and whether or not you will be stepping on it with bare feet makes all the difference. Try a nylon rope or a softer cotton cord if you plan on using this indoors and you can use any kind outdoors, but try a rougher rope if you plan on using this as a door mat to catch dirty muddy shoe mess. Get all the full set of instructions here.
Image: My Poppet
If you're a tech-savvy Twitterer or find yourself glued to your smartphone 24/7, getting craft with this next rug might be just what the doctor ordered. This rug is perfect for your bedroom, and it couldn't be any easier to make. All you need is a pile of old t-shirts (admit it, you can't fit into that 2005 SXSW Interactive shirt anymore), plus knowing how to braid (or have a friend help you with this step). You also need a sewing machine. This is a great weekend project or an alternative to crocheting or knitting. Relax and spend an afternoon listening to old records and braid away your stress. This would also make a great birthday gift and costs nearly nothing since you are using unwanted old t-shirts! Get the full directions here.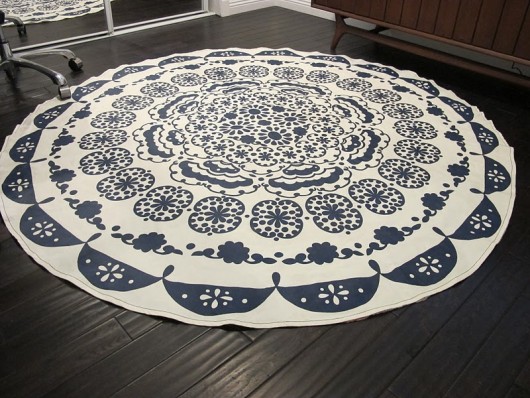 Image: Dream Book Designs
Even though Anthropologie is just a few blocks away from AVA 55 Ninth, we're betting that you aren't willing to shell out hundreds of dollars on an area rug that you can just make yourself. This last DIY rug project comes from Dream Book Design and is made using a tablecloth. Have you ever found an amazing fabric or curtain or tablecloth pattern that you liked, but had no idea what to do with? Have you ever seen a gorgeous vintage textile for sale at the SF Flea Market but would have no clue how to put it to use? This is the perfect idea – make it into a rug! You preferably want to use a thicker fabric but any cotton fabric will do as long as you love the design. For this DIY all you need is your fabric, rug pad, spray adhesive and polyurethane top coat. Get inspired by this DIY and follow the directions here.
Hopefully this inspired you to try making a rug of your own. Don't feel like you have to spend hundreds or even thousands of dollars to get a beautiful rug. You can create your own unique masterpiece that you can show off in your AVA 55 Ninth living room or outdoors as a welcome mat.
February 17th, 2014
Posted in: DIY