Luxurious Bathrooms Provide a Relaxing Escape at Avalon Ossining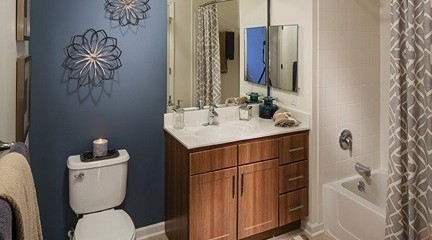 Bathrooms are not only about function, as they can be transformed into an oasis for relaxation and escape. To enjoy a bathroom you can really indulge in, three primary characteristics must be met: space, lighting and décor. These ingredients create a bathroom retreat worthy of a spa, and this retreat is waiting for you at Avalon Ossining apartments.
The bathrooms in the one, two, and three bedroom floor plans all possess the qualities for a tranquil environment. Most important is the ample square footage of the bathrooms and storage built into the cherry-wood cabinets, which maximizes storage space without unnecessary shelves or vanities. The overhead lighting and charming fixtures above the mirror make the bathroom feel larger and more inviting, and by adding some details to the overall bathroom aesthetic you can make the space one-of-a-kind.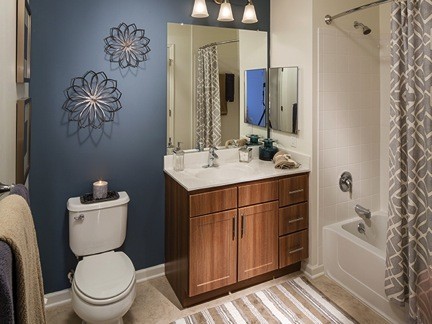 Image: Avalon Communites
From a design standpoint it's best to keep décor for your bathroom to a minimum. Since bathroom spaces are generally small, steer clear from cluttering your bathroom with too many accents, as that can make the space feel confined. There are no wrong choices with bathroom details and you can add simple décor and splashes of color to match your personal style. For instance, try adding decorative candles on a candle tray or small ornamental storage containers. You can even go so far as to add small flowers or a figurative statue.
Located within fifteen miles from Avalon Ossining are several stores for you to find wonderful decorations for your bathroom. Your first stop should be West Elm; only thirteen miles away on 678 Post Road in Scarsdale. West Elm has a contemporary design – their broad range of candles and diffusers would make any bathroom more colorful! Take a look at the counter top accessories, specifically the apothecary jars that can be monogrammed.
Slightly north and west just eight miles from Avalon Ossining is Pier 1 Imports, located at 792 Bedford Road in Bedford Hills. Known for their broad range of decorative accessories, what's unique about Pier 1 is their seasonal décor. Spice up your bathroom and keep it fresh with coordinating accents relevant to the time of year.
Another necessary visit you'll need to make is to Bed Bath & Beyond, which is about fifteen minutes and eight miles from Avalon Ossining. Whether you find a bathroom mat or decorative towels, there's a wide selection in assorted styles for every bathroom aesthetic. Bed Bath & Beyond is located at 251 East Main Street in Elmsford.
After a long day, nothing is better than finding relaxation and peace in the comfort of your personal bathroom. Fill your bathtub with warm water and bubble bath hydrotherapy or enjoy a hot shower with steady water pressure. Take pleasure in the smells of that amazing potpourri that also adds a colorful accent to you bathroom space. The key to bathroom success is making it your own.
For a tour of Avalon Ossining's luxurious bathrooms and amenity-filled apartments, call us at (877) 490-9504.