Bedroom Décor Inspiration

Deciding on what the overall look of your bedroom will be is one of the most fun (yet challenging) parts of moving into a new apartment. Once you've decided on a color scheme though, the process becomes much easier and enjoyable. The best way to pick out a color scheme is to focus on bedding first and then the accents. Still need help choosing? Check out our favorite bedrooms to get inspiration!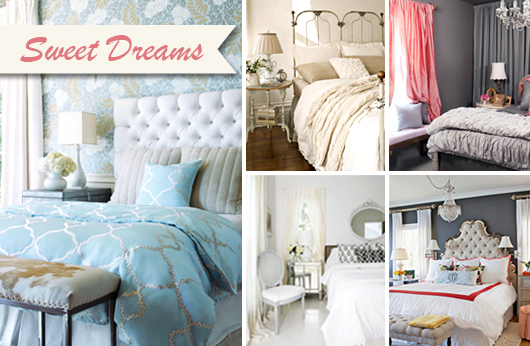 Textured Turquoise
With its seaside hues and airy atmosphere, this room will feel like a tropical oasis. A blue and white color palette is especially useful in a small bedroom because the colors allow the room to appear more open and brighter.
Cottage Chic
Cozy textures and shabby chic furniture give this bedroom a warm cottage vibe. A great aspect of this design is that it can be budget-friendly by using old furniture or thrift store finds. When shopping for bedding, look for knit fabrics to create the antique charm.
Romantic Chic
Pink accents and a tufted headboard capture a romantic feel in this otherwise neutral color scheme.  Pintuck bedding is a popular trend in bedding right now and the texture helps add personality to the solid bedding. This room is perfect if you are looking for a chic feminine style.
Black & White
If you're looking for a classic design in your bedroom, go for black and white! A mirrored nightstand breaks up the solid colors while keeping the look simplistic. The best part of the look is that it's easy to update the décor with other color accents such as pink or gray.
Pop of Color
For a cheerful bedroom, try playful accents like floral pillows and white bedding with a colorful trim. Adding a fresh bouquet of bright flowers livens up the room as well. This look is a fun one to play with so get creative when picking out décor!
Images (clockwise): Thibaut, Country Living, Country Living, Better Homes and Gardens, Better Homes and Gardens